Taking a trip? Let us drive while you sit back and catch up on a series, read a book, study, work or simply enjoy the view from your window! Our modern and reliable service provides everything you could possibly desire - comfort, reliability, and breathtaking views.
Why Travel by Bus?
Our services provide an unparalleled experience, making the decision to travel by bus easy.
Dependable: Our buses are maintained and our fleet is continually being renewed. They arrive on time and adhere to the schedule.
Comfort: Our modern equipment and comfortable seats guarantee a relaxing journey, catering to your comfort throughout the trip. There is an electrical outlet at most seats and a washroom on board.
Friendly Professional Drivers: Our drivers are not only skilled, but they also possess a warm and professional attitude, ensuring a delightful journey.
Scenic Views: Gaze out of the window and lose yourself in the idyllic scenery of Northern Ontario.
Complimentary Wi-Fi and On-Board Entertainment System: Stay connected and entertained with our complimentary wi-fi and top-of-the-line entertainment system.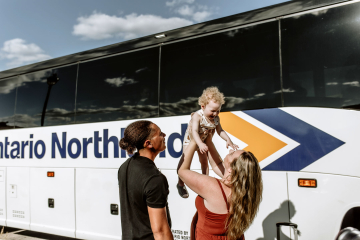 Stations & Stops
There are over 175 locations where you can access our service. Ontario Northland operates stations in key locations and partners with local businesses who operates as agents. 
Wi-Fi & ON-Board Entertainment
ON Board Wi-Fi is the all-in-one free Ontario Northland internet connection and onboard entertainment. Watch great content including dramas, comedies, news, documentaries, and more.
Listen to music, podcasts and audio books.
Read e-books in multiple genres.
How to Connect: From your phone, tablet or laptop go to wi-fi setting and choose "ON Board Wi-Fi" and connect. Using an Android device or laptop? Open your browser and enter in onboard.ontarionorthland.ca (iOS devices will redirect automatically).
Having trouble connecting? If you have already signed on, please wait a few minutes and try again. You can inquire with the driver at the next stop but note that there may be a technical issue or service interruption. For assistance please email passengercare@ontarionorthland.ca or call 1-800-461-8558.
Baggage
Passengers are welcome to check one (1) piece of baggage at no charge for storage in the compartment underneath the bus. Be sure that your luggage is tagged with your name, phone number and destination. All baggage must weigh less than 50 pounds (23 kg) and not be larger than 24 inches (61 cm) in depth, 24 inches (61 cm) in width and 45 inches (114 cm) in length (except snowboards, skis and ski poles). For your convenience, Ontario Northland will check two (2) additional pieces of baggage at $15 each. If you require checking more pieces of baggage, you will be charged the BPX (Bus Parcel Express) rate.
Each passenger is welcome to carry-on one piece of baggage, weighing no more than 15 pounds (7 kg).
If you are transferring to another carrier enroute, you will need to collect your baggage and re-check it with the connecting carrier.
Connections
You now can purchase GO Transit (https://www.gotransit.com/en/) tickets in the Ontario Northland ticketing system. We connect to GO Transit at Union Station, the 407 Vaughn Terminal, GO King City Station, and Yorkdale.
We also have connections to many other carriers. Explore their schedules and options by visiting their websites:
Safety & Security
Ontario Northland is committed to providing a safe and pleasant environment for all its passengers and employees. Disrespectful or unsafe behaviour will not be tolerated on board Ontario Northland transportation services or in our stations. To find out more view our On-Board Policies.