Bus Parcel Express
Need to ship a package to or from Northern Ontario without breaking the bank? Let Ontario Northland's Bus Parcel Express be your solution! Ontario Northland can ship bicycles, automobile parts, tires, recreational vehicle parts and much more (at a maximum size of 24"x40"x84"). 
We have over 150 stops throughout the province of Ontario and now travel as far west as Winnipeg, Manitoba. It is a fast and reliable solution.
Weight and Size Limitations 

Maximum size 24 inches (64 cm) x 40 inches (102 cm) x 84 inches (213 cm)
Maximum weight per piece: 75 pounds (34 kg)
Business Accounts

Set up an account with us if you plan on shipping frequently. Your business will receive additional discounts and direct billing. Apply for an account by emailing passengercare@ontarionorthland.ca
ONvelope PLUS

Ship small parcels regularly? ONvelope PLUS is the ideal solution. These 12" x 17" plastic envelopes include prepaid shipping - so you have them on hand when you are ready to ship. Not currently valid for shipments to Toronto locations.
Liability

Ontario Northland's Liability is limited to $100 for loss or damage unless a higher value is declared and added value charges are paid at time of shipment (some conditions apply).
How it Works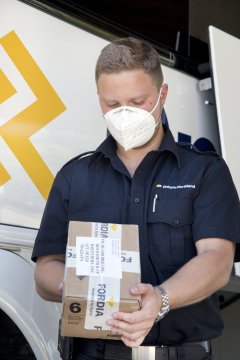 Step 1 -  Bring your package to an Ontario Northland Station or Agency. 
Step 2 -  The Ontario Northland ticket agent or Agency Partner will weigh, measure and provide you with a price, prepare the paperwork and receive your parcel.
Step 3 -  The driver of the next available bus will pick up your parcel and transport it to the marked destination.
Step 4 -  Upon arrival, the recipient will be notified by phone or e-mail to pick it up at the station or agency.
Don't want to go out to get your parcel?
Ask us about last mile delivery to the door! We have select locations that provide this service for your convenience.