The Polar Bear Express Passenger Train
The Polar Bear Express passenger train is an essential transportation service used primarily by the residents of Moosonee and Moose Factory travelling to and from Cochrane, Ontario. The train is also used by passengers travelling to fish, hunt, camp and participate in the many tourism activities in the region.  
What to Expect on your Train Trip?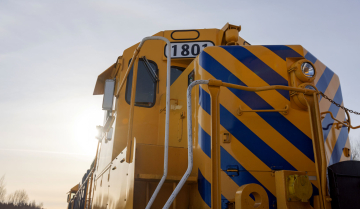 Our services provide an unparalleled experience, making the decision to travel by train easy.
Comfort: The seats on the train are comfortable and spacious. Seats are configured in groups of four or in two. 
Storage Space: One of the benefits of our passenger coaches is the many areas to store baggage and belongings. We understand that passengers travelling on this trip travel with more supplies and goods compared to other railways.
Scenic Views: Gaze out of the window and lose yourself in the idyllic scenery of Northern Ontario.
Complimentary Wi-Fi and On-Board Entertainment System: We are excited to introduce this enhancement to our service in 2024.
Tickets and Seat Reservations
The Polar Bear Express departs Cochrane at 9 am and arrives in Moosonee at 2:00 pm. The train departs Moosonee at 5 pm and arrives in Cochrane at 10:00 pm.  Between October 16, 2023, and June 24, 2024, the train operates 4 days a week on Monday, Tuesday, Thursday, and Friday (no train service on Wednesday, Saturday or Sunday). 
Ontario Northland uses a reservation-based system, that allows you to select your seat and purchase your ticket. Customers can print their tickets or ask the ticket agent in Moosonee or Cochrane to do so before boarding the train. Please present your printed paper ticket to the conductor.
Alternatively, customers may choose to present an electronic ticket (viewable on a mobile device) to the conductor, along with government photo ID. 
Tickets can be purchased by phone at:
Cochrane: 1-800-265-2356 or 705-272-4228 (7:00am-10:30pm Daily)
Moosonee: 1-705-336-2210 (10:00am-6:00pm Mon–Fri)
Timmins: 1-705-264-1377 (6:00am-10:30pm Daily) 
Stations & Stops
The Cochrane and Moosonee Stations have friendly ticket agents available to assist you before or after your trip. For passengers boarding at a Flag Stop location, please contact us prior. Please note all flag stop times are approximations.
Dining Car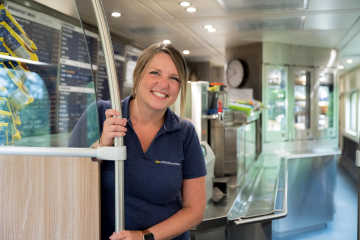 The Polar Bear Express Passenger Train is proud to showcase our most popular car on the trainset: the Dinning Car. A favourite feature for locals and tourists alike, the Dinning Car serves a variety of breakfast, lunch and dinner options for passengers to enjoy during their five-hour journey. Food is prepared in-house using fresh ingredients and daily specials and snack options are offered to patrons. Passengers can often be found socializing, playing games and relaxing in the bench-style seating areas. If you are traveling on the Polar Bear Express, this is an area you won't want to miss.
Travelling with Children
Tickets for children under the age of two (2) are not required when they are not occupying a seat. Please let the Customer Service Sales Agent know you are travelling with an infant under the age of 2, and a notation will be made on the passenger manifest so the Conductor is aware of the infant travelling with the adult.
Baggage
The Polar Bear Express is equipped with a baggage car, allowing passengers to check their baggage before they depart. Each ticketed passenger is allowed a maximum of three (3) pieces of checked baggage at no charge (weighing a maximum of 23 kg or 50 lbs). Additional pieces may be checked at an additional charge of $5.00 each. Ontario Northland also provides an Express Freight service allowing passengers to ship oversized and/or overweight baggage up to 34 kg or 75 lbs.
The following articles may be checked as baggage:
Any type of gun, firearm, replicas, ammunition, explosives, or weapons, including cross-bows and arrows (must be locked and secured in proper receptacles)
Sharp objects such as axes, ice picks, knives or swords (must be locked and secured in proper receptacles)
Plants
Bicycles
Groceries (not in excess of 23 kg or 50 lbs and properly packed)
Each ticketed passenger is also allowed a maximum of one piece of carry-on baggage. Personal items such as purses, briefcases, laptops, or infant items such as strollers, car seats or diaper bags are not included in this limit. For more information visit Rules and Regulations or contact us by phone at 1-800-265-2356.
Safety & Security
Ontario Northland is committed to providing a safe and pleasant environment for all its passengers and employees. Disrespectful or unsafe behaviour will not be tolerated on board Ontario Northland transportation services or in our stations. To find out more view our On Board Policies.
There is a security guard on each train trip committed to keeping the on-board experience safe.
The Cochrane Station Inn 
Many passengers travelling on the Polar Bear Express passenger train choose to stay at the Cochrane Station Inn. 
Our contemporary rooms will relax you the moment you arrive. Enjoy your favourite shows on a 37" flat panel television, and increase productivity during your stay thanks to features like high-speed wireless access. Relax and refresh yourself with our calming showerheads. The guest bathroom also boasts natural stone countertops. Our Northern Ontario hotel is just steps away from The Tim Horton Museum, the Polar Bear Express train and several of Cochrane's dining options: the best the area has to offer is just outside our doors.
Whether you're here for business or fun, the friendly staff at The Station Inn will make your stay comfortable.