Who We Are
Ontario Northland Transportation Commission (ONTC) is an Agency of the Province of Ontario that provides efficient and vital transportation services.  We employ over 900 skilled professionals and are over 120 years old and proud of our heritage and connection to the communities we serve.  We are focused on moving forward with the goal of being a valued leader in transportation.  We offer competitive salary, excellent benefits, a defined benefit pension plan, paid vacation, 3 paid personal leave days along with discounted transportation on our bus and passenger rail services.
If you're looking for an exciting and rewarding career, Ontario Northland is the place for you. We offer a wide range of job opportunities in a variety of fields, from passenger rail and freight services, to motor coach operations and railway car repair. Our team is comprised of diverse people with multiple skill sets, so no matter what your background or experience, we have a position that's perfect for you. 
Some of the benefits of working at Ontario Northland include: 
A chance to make a difference in the lives of others 
The opportunity to work with a highly skilled and experienced team 
A safe and positive work environment 
Competitive wages and benefits
Living in beautiful Northern Ontario 
Ontario Northland is an equal opportunity employer. Accommodation is available for applicants with disabilities throughout the recruitment process. Please contact Human Resources by emailing jobs@ontarionorthland.ca.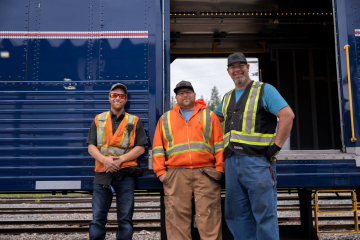 "What I love the most about my job is the people I work with. Being a Programmer Analyst, I engage with many different team members from different departments and I enjoy helping them by coming up with creative solutions to make their work easier." 

- Dwija, Programmer Analyst