Ontario Northland is an agency of the Province of Ontario that reports to the Ministry of Transportation. Ontario Northland was created by the Ontario government in 1902 to provide transportation services in Northern Ontario and operates under the authority of the Ontario Northland Transportation Commission Act. The organization is mandated to deliver efficient, safe and reliable transportation services in Northern Ontario. 
Vision
The world needs what Northern Ontario has to offer – and Ontario Northland will be the modern, future-ready transportation system to deliver it. 
Mission
We're improving connectivity between Northern Ontario and other parts of the province to support and foster economic development, job creation and community sustainability. As an agency we work with municipal stakeholders, including Indigenous communities and partners at the Ministry of Transportation. We will align priorities, focus on fulfilling our commitments, and be a trusted partner to deliver high quality services. 
Values
Ontario Northland conducted an employee engagement survey called the ON VOICE in 2022 as part of an effort to refresh its organization values. The new organization values are:
Safety. Full Stop.
Safety is core to everything we do. We do not settle for less, for our people or our customers-even when operating pressures make it tough to do so.
Go Beyond
We take pride in serving our customers and communities. We seize every opportunity to exceed their expectations and to challenge the status quo, to meet their evolving needs.
Never Stop Caring
We care about each other, our customers, the work we do, and how we do it. We create a respectful environment where we can be ourselves, feel valued, and perform at our best.
Focus on the Path Ahead
We grow and innovate with intention. We align with government and ministry priorities and fulfil our commitments.
Lead the Way
We can all be leaders. We take responsibility, trust each other to do the right thing, and speak up to make things better.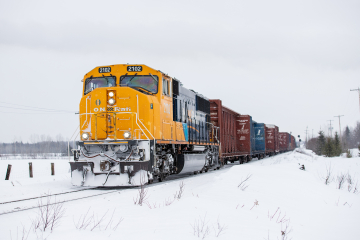 Board of Directors
The Board, also known as the Ontario Northland Transportation Commission, is appointed by the Lieutenant Governor in Council and brings a wide range of expertise and regional representation. The Commission is responsible for the governance, oversight, and strategic planning of the agency. The Chair of the Board is accountable to the Minister of Transportation through the Memorandum of Understanding.
Commissioner Alan Spacek

Chair

A respected entrepreneur, Alan Spacek was the former Mayor of Kapuskasing from 2006-2018 and President of the Federation of Northern Ontario Municipalities (FONOM) for eight years. His life's work has centered on the northern economy – helping businesses improve, pursuing economic development opportunities and a strong devotion to social services through his mentorship within the education, justice and health sectors. A life-long northerner, Alan understands the unique challenges of northern Ontario and the vast opportunities that exist for the region.
Commissioner RJ Falconi

Robert J. ("RJ") Falconi, B.Sc., JD, ICD.D - Vice Chair

RJ, born and raised in North Bay, is currently a resident of Bradford, and is the Managing Director of RayleeValleyGroup that provides legal, public policy, rail transportation safety, government relations, and corporate governance advice. A Commissioner on the ONTC since January 2020, he is Chair of the TSSA Board, member of Tarion Warranty Corporation's Board, and CME's Ontario Advisory Board. RJ was formerly EVP, Chief Legal & Government Affairs Officer, General Counsel & Corporate Secretary at Canadian Standards Association. Previously a VP, General Counsel & Assistant Corporate Secretary for Parsons Corporation, a transportation engineering firm, and Legal Counsel at Citibank Canada. He is noted for organizing the first ever rail safety Congressional education forum on Capitol Hill in Washington DC and leading a Rail Safety Task Force of experts to develop rail safety solutions arising from the Lac-Mégantic crude oil tank car train tragedy. RJ has a B.Sc. from the University of Toronto, an LL.B. (J.D.) from Osgoode Hall, is certified as an Institute‐Certified Director (ICD.D) and is a member of the Law Society of Ontario.
Commissioner Randy Nickle

Randy Nickle, a resident of Kenora, has a strong business background as an A&W Franchise owner for more than 38 years. In addition he and his wife Lori jointly operated a motor coach agency in Dryden and Kenora making him very familiar with the transportation industry needs of northwestern Ontario. He has spent decades committed to tourism in the northwest, most notably chairing the Committee of Harbourfest, one of northwest Ontario's largest Music and Family festivals. Randy has participated in various board and committees, ranging from economic development and tourism, to Copperfin credit union board member and many years in minor sports.
Commissioner Roberta Sawchyn

As a Certified Hotel Administrator Roberta Sawchyn has worked in the hospitality industry for over 25 years. For the past 19 years she has held the position of General Manager for the Best Western Plus Nor'Wester Hotel & Convention Centre. She is Chair of the Thunder Bay Hotel Association, Board Director of the Thunder Bay CEDC, past board director of the Thunder Bay Chamber of Commerce and has volunteered for many local organizations such as the United Way and Easter Seals. Roberta is a lifelong resident of Thunder Bay and she works passionately in bringing her visions and experience of excellence to the community and surrounding areas. Having a strong and healthy community for her family to live and grow in is paramount.
Commissioner Lynne Innes

Lynne Innes is a proud member of Moose Cree First Nation and a life-long resident of Moosonee. She began her career as a Registered Nurse, then attained her master's degree in Nursing and certification as a Primary Health Care Nurse Practitioner. After completing her graduate studies, Ms. Innes returned home to provide care for her community and to raise her children in her traditional territory. Recently, she completed all the requirements and credentialing for the Certified Health Executive designation with the Canadian College of Health Leaders and continues her studies at the Rotman School of Business at the University of Toronto. In 2018, Lynne was appointed the Vice President of Clinical Services & Chief Nursing Executive for the Weeneebayko Area Health Authority and assumed the role of President & Chief Executive Officer in June of 2019. Most recently, Lynne also serves as a Director on the Ontario Hospital Association board, as a School Board Trustee, and as the Vice-Chair of the NAN Task Force Team.
Commissioner Fred Gibbons

As the former President of Northern College, Fred Gibbons has spent more than 25 years working in the community college education system. In 2021 he received the lifetime achievement award for his contributions to education from the Ministry of Colleges and Universities. Serving on numerous local boards and committees, including past president of the Timmins Chamber of Commerce, Director on the Timmins & District Hospital Board, and Chair of the Timmins Economic Development Corporation, Fred has an acute knowledge of Northern Ontario. Known for his work in establishing lasting partnerships that benefit northern communities, Fred has chaired numerous provincial and national organizations such as Colleges Ontario and the Committee of Presidents.
Commissioner William Ferguson

William Ferguson is VP of Creative and Partner at TWG Communications. With over 26 years of industry experience, William's insight, knowledge, and expertise have been the driving force behind TWG's diverse creative portfolio. As one of the agency's founders, he has built a reputation for scouting the best design talent and directing strategic branding and innovative campaigns for a myriad of regional, national, and international clients. William's community involvement is extensive and includes his current role as Vice President of the Canadore College Foundation, and previous roles including past Chair of the Board of Governors of Canadore College, past Chair of the North Bay Police Services Board, past Chair of Heritage North Bay, and a variety of community initiatives. William has been credited with many award-winning creative projects, has received awards for his sound and proven leadership and business acumen, and is a recipient of the Queen Elizabeth II Diamond Jubilee Medal.
Interested in Serving on the Board of Directors?
Our Board of Directors ("the Ontario Northland Transportation Commission") plays a key role in providing strategic leadership to the agency and ensuring accountability to the public, helping Ontario Northland to achieve its mandate, goals and objectives. Ontario residents can express interest in our agency and apply through the Public Appointments Secretariat appointments process.
https://www.ontario.ca/page/public-appointments
To apply online, please visit the Public Appointments Secretariat website